If there is a joint that people rely on the most, it's the knee. As a multi-function component, the knee handles suspension, mobility, flexibility, strength, stability and support. It's a lot of work for one part of the body, but the design is incredibly powerful when everything is working correctly. However, when the knee has a problem, it can be debilitating. As those with knee pain know, serious knee limitations can be hard to overcome. We here at Family Health Chiropractor Center see this all the time with our knee chiropractor in Tampa, FL.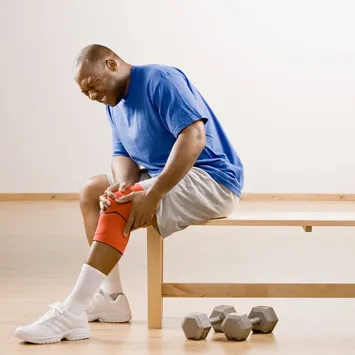 Symptoms of Knee Pain
Knee pain is often related to various conditions and situations. The most common symptoms tend to be sharp sensory reactions when trying to bear weight or movement. However, knee pain can also lead to secondary symptoms and make it hard to walk, much less run. It can cause the knee to literally lock up and lose motion altogether, and it can be a product of inflammation.
In most cases, knee pain is a result. The cause, however, can be extremely complicated. Obvious causes, such as a direct injury can be clear and logical. However, old injuries manifesting in deterioration, loss of cartilage, fractures, and similar all create degeneration that can't be repaired by normal healing. Arthritis and age also contribute to damage as well. Compounded with the loss of bone density and age-related wear and tear, the knee begins to fall apart.
Alternatives to Serious Reconstruction
Chiropractic care treatment of the knee focuses on helping the patient holistically regain mobility and flexibility. In some cases, surgical intervention may not be necessary. The pain may feel like the situation requires extreme repair, but the body simply needs to be aligned correctly again so that it stops fighting itself and begins healing properly again. That can come with stretching, chiropractic pressure treatment, spinal alignment, specific diet guidance, and other types of chiropractic healing.
Contact Us for a Knee Pain Chiropractor in Tampa, FL
Knee pain treatment is available for Tampa, FL. Regardless of the causation, patients can obtain highly qualified help and support from us at Family Health Chiropractor Center. The chiropractic care we provide addresses each case specifically with a unique knee pain treatment plan. The results are not just pain management, but in many cases movement towards wellness. While a knee pain chiropractor cannot guarantee a perfect recovery of every knee condition, the expertise provided by us at Family Health Chiropractor Center has helped many patients regain their life again. Call us at (813) 882-8181 today for an appointment.